Slow Google Sheets?
We've all been there, stuck watching the little loading bar creep slowly, frustratingly to its conclusion: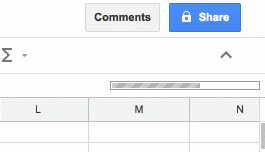 How can you speed up a slow Google Sheet?
First off, this is a difficult question to answer because there are so many factors that may or may not be causing you to have a slow Google Sheet.
What follows in this article is some suggested optimization strategies and some research into what causes slow Google Sheets.
---
Strategies to speed up Google Sheets
Continue reading Slow Google Sheets? Here are 27 Ideas to Try Today 🐢