Want tons of great Google Sheets, Apps Script and Data Studio resources in one place?
Then you'll love this list.
These are my go-to resources when I'm building spreadsheet applications for clients or developing content for this blog. I have hundreds of bookmarks on the subject but here I've whittled it down to just the very best.
Feel free to suggest any other resources in the comments below!
---
Google Sheet Resources
Google Help Resources
Starting this list off is the official Google Sheets documentation. This guide covers everything about sheets, including all 346 formulas.
Google spreadsheets function list – all 346 of them! A good place to start when you want to find out the syntax details or how formula X works.
The Google Docs blog – the official source for product announcements, updates and tips from Google.
Forums and communities
Aka, good places to ask questions!
Google Sheets Help Forum. The place to go to get your Google Sheet questions answered. Read this getting started guide if you're new to it. There are also forums for the other Google Docs.
Blogs
Teacher Tech from Alice Keller is a popular tech education blog with tons of Google Sheets content, mostly tailored to the education space. Example read: Google Sheets: Split and Transpose
Control Alt Achieve is a tech education blog from Eric Curts, focussing on the Google platform. Lots of great material here with two new articles a week. Example read: Student Reading Log Template with Google Sheets
Coding is for Losers from David Krevitt, is all about automating your workflow using Google Sheets and tools like Zapier and Supermetrics to import your data into Google Sheets. Tons of free templates available for your use too. Example: VLOOKUP like the Pros
Digital Inspiration blog from Amit Agarwal is chock-full of digital tips and tricks for the Google platform, from easy to advanced, with plenty of articles pertaining to Google Sheets. Example read: How to Make YouTube Playlists with a Google Spreadsheet (using REGEX formulas)
Learning Google Apps from Barrie Roberts. This site has tons of comprehensive content on Google Sheets, especially formulas. Example read: Conditional Formatting & custom formulas
Drive Bunny from Phil Ballard is another site full of great tips and tricks for Google Apps. Also includes details on Apps Script (see below). Example read: Improved Splitting of Text into Sheets Columns
G Suite for Everyone – tips and tutorials from the Better Cloud blog. Buried in the Better Cloud site is all the old content from The Gooru website, which was taken over by Better Cloud. Example read: Siri for Google Sheets: Type Questions, Get Instant Answers with Wolfram Alpha
How To Make a Brain-Friendly Bar Graph in Google Sheets from Lea Pica is a really in-depth look at data visualization best practices when using Google Sheets. This article will help you communicate your data story more quickly, accurately, and intuitively.
The Prolific Oaktree YouTube Channel, from Adam Steinfurth, has hundreds of high quality Google tutorials, covering Google Sheets, Drive, Forms, Docs etc.
Other interesting reads
An interesting Business Insider article on the Google Apps roadmap and market goals. If like me, you're invested in the Google platform and your business piggybacks on it, then this is a good read to show you just how HUGE the market is!
If you're a marketer or use Google Analytics a lot, the Google Analytics add-on is a super useful little tool for bringing your data into Google Sheets. Here's a handy guide from Neil Patel of Quicksprout.
Books, ebooks and training courses
Ebook: The Ultimate Guide to Google Sheets by Zapier, a comprehensive dive into Google Sheets.
---

Gratuitous embedded Google Sheet because why not?
---
Apps Script Resources
Apps Script is a cloud based scripting language for extending the functionality of G Suite Apps and building lightweight web-based applications. If you're new to it, check out my Beginner guide to coding with Google Apps Script.
Google documentation
The official Google documentation for Apps Script is an excellent resource. There are lots of example code snippets that will help you get started with new topics. Use the Search bar to find what you're after. Example read: Here's the documentation for the Spreadsheet Service, i.e what you use to extend Google Sheets.
The nice folks at Google have also put together a bunch of great Apps Script tutorials that will help you get started.
Forums and communities
The best community for Apps Script Q&A is the Google Apps Script Group, which is very active.
You can also post questions to the Google Docs help forum, although read this short note on the best way to get your question answered.
Stack Overflow is the go-to resource for developer Q&A, so it's no surprise to see a ton of Apps Script answers. It's another likely place to find what you're looking for.
There's also an official site to report Apps Script issues and submit feature requests.
Totally Unscripted is a Google Apps Script Community Show run by some of the Google Developer Experts. It's a roughly hour-long webinar discussing many different aspects of script development, including the perspectives of professional developers sharing their findings and code. The webinars are recorded and all shown on YouTube.
If you're in the education space, then there's a vibrant Apps Script for Education Google+ community.
Blogs
If you write Apps Script code, chances are you're already a follower of the G Suite Developers Blog. If not, then it's the place to hear about product development and software releases. Example read: Introducing the Google Sheets API v4: Transferring data from a SQL database to a Sheet
Desktop Liberation – the definitive resource for Google Apps Script and Microsoft Office automation from Google Developer Expert Bruce Mcpherson (see also the video training series on Google Apps Script and the book: Going GAS, both from Bruce Mcpherson also). A huge amount of Apps Script learning materials here, from easy to cutting-edge hard. Example read (where to start?!): Data wrangling with named columns in Google Spreadsheet
MASHe – The musing of Martin Hawksey (EdTech Explorer) is a great resource for Apps Script, from another Google Developer Expert. Example read: How to open a Google Sheet at a specific row for editing
Side note: Bruce Mcpherson and Martin Hawksey are the brains behind the Totally Unscripted Apps Script Community show mentioned elsewhere in this post (see video section below).
The Digital Inspiration blog from Amit Agarwal (mentioned above in the Sheets resources section) includes Apps Script examples too. Example read: The Most Popular and Useful Google Scripts
Mogsdad is an Apps Script blog from David Bingham with a lot of great content from someone with deep experience with Apps Script. The content was last updated in January 2016 however. Example read: Did you know? You might have Phantom Code!
Blog of Google Developer Expert Ivan Kutil, with a focus on Apps Script and Google Apps. Example read: Integrate Google Apps and Slack with Google Apps Script
The Yagisanatode blog includes lots of in-depth Apps Script tutorials. There is lots of great information here for non-coders learning Apps Script. Example read: Delete Rows Based on a Column's Cell Value in Google Sheet
Google Spreadsheet Programming With Google Apps Script (GAS) from Michael Maguire. Example read: Returning Arrays of Named Ranges in GAS
Apps Script tips and tricks blog from freelance developer Andrew Roberts. Example read: Google Apps Script Development – Best Practices
Drive Bunny from Phil Ballard is another site full of great tips and tricks for Google Apps Script. Also a great resource for general Google Apps tips and tricks. Example read: Connecting to MySQL Databases using Apps Script
Other interesting reads
How to Import Data from Google Analytics into Google Sheets with Apps Script from Jevgenijs Kazanins. This is a nicely presented, in-depth article about connecting Google Sheets to the Google Analytics API.
Videos
YouTube videos from the Totally Unscripted community show (mentioned above in the Forums and Communities section).
The Google Developers YouTube channel has Apps Script specific videos, although many of them are quite old now (and Apps Script continually evolves). Keep an eye out for the new videos, like this one: Generating slides from spreadsheet data (The G Suite Dev Show)
Books, ebooks and training courses
Book: Going GAS: From VBA to Google Apps Script from Google Developer Expert Bruce Mcpherson. I have a copy of this indispensable book on my desk and regularly reference it during apps script projects.
Book: Learning Google Apps Script by Ramalingam Ganapathy. This book is intended for beginners and is full of code snippets to get started with Apps Script.
Video training course: Google Apps Script for Beginners Training Video – A Practical Training Course That Teaches Real World Skills from Google Developer Expert Bruce Mcpherson
Video training course: Google Apps Script for Developers Training Video – A Practical Training Course That Teaches Real World Skills from Google Developer Expert Bruce Mcpherson. I've taken this course and highly recommend it.
Ebook: Google Sheets Programming With Google Apps Script (2015 Revision Complete) from Michael Maguire.
---
Data Studio Resources
Data Studio is Google's new Business Intelligence tool that was released in May 2016. It's a browser based tool that is super quick and easy to use. It seamlessly integrates with many different data sources so you can focus on visualizing and understanding your data.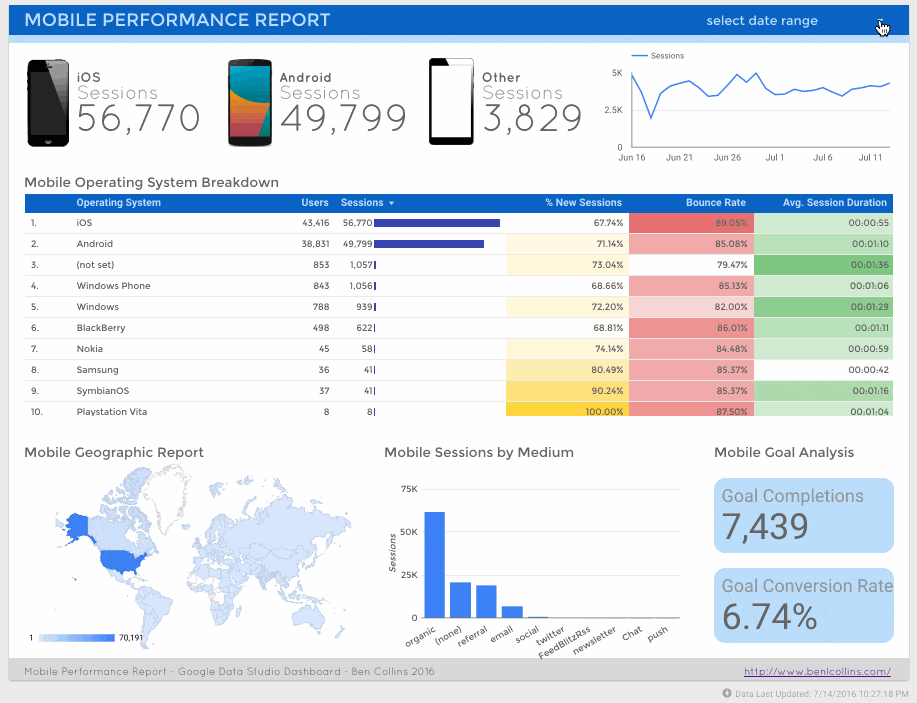 Official documentation
The Data Studio home page, where you can sign up for Data Studio.
Welcome to the Google Data Studio (Beta) Help Center
Official video tutorials from Google on how to use Data Studio.
Here's the full list of all 53 functions available in Data Studio to create calculated fields in your datasets. And here's the official Google documentation on how to use calculated fields.
Forums and G+ communities
There's an active forum to ask Data Studio questions and share knowledge.
Here's a Google+ community for Data Studio Q&A. It's still a very new group so only has a small membership at the moment, so why don't you join and start asking more questions!
Blog posts
My own take: Introduction to Google Data Studio: a free BI tool for small businesses
And a dive into some of the more advanced aspects of the tool, also from my blog.
Google Data Studio: A Step-By-Step Guide from Daniel Waisberg.
Empowering Google Analytics with Google Data Studio from Lizzie Silvey.
A First Look at Google Data Studio from Ben Jones at Data Remixed.
Tips for using the free version of Data Studio from David Loake.
Other interesting reads
Showing off the new (free) Google Data Studio, with reddit comments in BigQuery from Felipe Hoffa.
How Google Data Studio can help your Business by Andrea Rapanaro of Atos Consulting
Videos
Dashboarding with Google Data Studio from Datasaurus-Rex. This excellent video gives a great run-down of the tool including a demonstration of two people collaborating on the same Data Studio report.
Report like a boss using Data Studio from Google Analytics
Conclusion
Anything I've missed? Feel free to send along any great resources you use.
If you've found this resource useful, please share 🙂