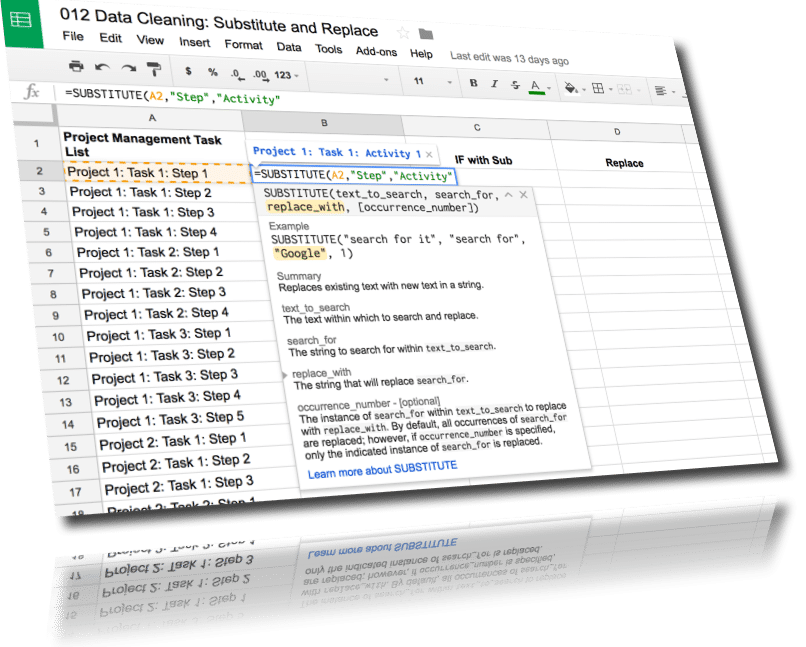 There's a joke in the data community that goes:
"You'll spend 90% of your time cleaning data, and the other 10% of your time complaining about that…"
Do you deal with badly formatted data that takes you hours to tidy up, preventing you from making progress on your "real" work?
Ever wondered what the heck a Pivot Table is, and why you should care about them?
Do you ever find yourself repeating a process manually, like extracting zip codes from addresses?
This new course is designed to help you work with messy, real-world datasets. It'll teach you techniques and best practices for cleaning data and preparing it for analysis and reporting.
This new course is aimed at beginner-to-intermediate Google Sheets users.
What is Data Cleaning?
It is the process of identifying and correcting errors, fixing incomplete data or dealing with irrelevant data in your data sets.
The goal of data cleaning is to create a consistent, clean data set, which gives you the confidence that any subsequent analysis and conclusions you draw will be based on sound data.
Why should you care?
It's a crucial first step in the data analysis pipeline, yet one that people often overlook.
If you start with "bad" data, for example containing duplicate records, you're inevitably going to end up with "bad" conclusions, for example double counting revenue.
This training course runs through professional techniques and best practices, using formulas and pivot tables, to clean your data, in a Google Sheets setting.
Why should you learn about Pivot Tables?
What this course will cover:
Best practices for working with data in Google Sheets.
All the formulas required for data cleaning.
Tips and tricks, such as shortcut keys, to make your workflow more efficient.
Professional techniques for turning messy real-world data into clean, orderly datasets for your analysis.
Pivot Tables! This course covers Pivot Tables from top-to-bottom. You'll go from never having seen a Pivot Table before to creating cutting edge ones, using advanced techniques like calculated fields and data extraction with special formulas. I don't think you'll find a more comprehensive course on Google Sheets Pivot Tables anywhere else on the web.
Two in-depth case studies, to show all the techniques being used together, in the wider context of a real-world problem.
What you get when you enroll:
Over 4 hours of video content.
Lifetime access to all the content, to learn at your own pace.
Access to all the raw data files, copies of the formulas and links to online documentation and other great resources.
Membership to our dedicated Facebook group where you can post questions and get answers, share insights and interact with other students.
What others say about the course:
Before this course I had used a few simple formulas (Average and Sum only) but now I know how to use a vlookup as well as create Pivot Tables. I've been making "Pivot Tables" wrong for years, entering all of the raw data myself. I am now able to make a Pivot Table that will now update as needed. I like how Ben shows multiple ways to do data cleaning and why you would choose one method over the other. I enjoyed the case studies at the end because they brought the entire course together.
– Rachelle L.
The course starts with a data cleaning section which is highly actionable and relevant to real world data sets that we all work with. My pivot table knowledge was pretty basic before this course and I am confident to say that I am now going to be able to implement them into my data analysis work flow. This course also took my efficiency to the next level which is exactly what I needed as more of my time and analysis is starting to take place in sheets. I can't recommend this enough.
– John R.
Learn professional techniques and best practices for working with data and mastering Pivot Tables!
Any questions? Leave a comment or drop me a line here.