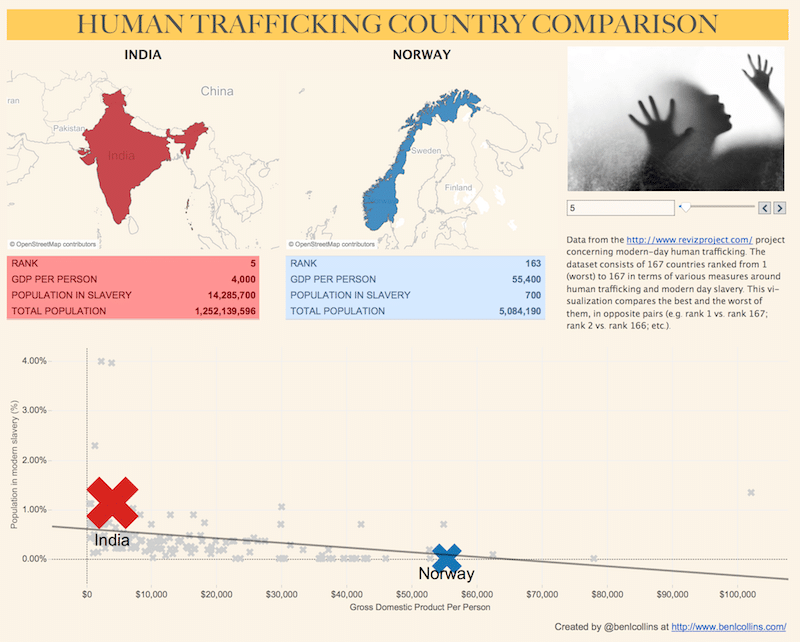 Click here to see the live version on Tableau Public
It's month two of the #RevizProject – a data visualization project from Matt Chambers, Nelson Davis and Alex Duke – open to the Tableau community. Following on from last month's entry, I finally found the time and headspace to attempt this month's visualization.
The team chose another hard-hitting story to bring to our attention, namely the shameful story of how human trafficking is still very much a big deal. These Tableau experts told the story in very different, and very compelling ways (here, here and here), before opening up the project to the community.
The dataset contained a 167 countries, ranked from 1 (worst) to 167, based on a huge number of variables (200+) related to human trafficking. It was an overwhelming dataset at first glance; how to decide which variables to focus on? It took a while to absorb, understand and pick apart, and figure out an angle for a story. Work/life also got busy so I put the project to one side for a few weeks.
However, I'm now at the tail-end of teaching General Assembly's Data Analytics course in DC, and we're in the thick of it with the Tableau section of the course, so it was a great chance to pick up this project again.
After a lot of head scratching, I decided to keep things simple and focus only on the relationship between the population in modern slavery and the GDPPP of each country.
I decided to also compare the worst offenders against their opposite numbers, based on the original ranking order of the 167 countries. So country 1, Mauritania, the worst offender in this list, is paired with, and contrasted against, the country at the bottom of the list, Iceland, ranked 167, which is the least offensive in regards to this issue. Then the country ranked 2, Uzbekistan, is contrasted against the country at rank 166, Ireland. And so on, and so forth, until we reach the median country, Macedonia, ranked 84th.
Whether this actually works as a visualization tool remains to be seen. Certainly one critique is that it only allows you to compare countries in a strict, fixed order, against their opposite number. But then this is by design, deliberately forcing the viewer to compare opposite ends of the human trafficking spectrum, until gradually meeting in the middle.
From a technical standpoint, I relied heavily on calculated fields to display only the countries/statistics I wanted to show. The "Scream" image was a stock image purchased from Photodune.
The data can be downloaded from the Reviz Project website here, and the original report/dataset is online here.