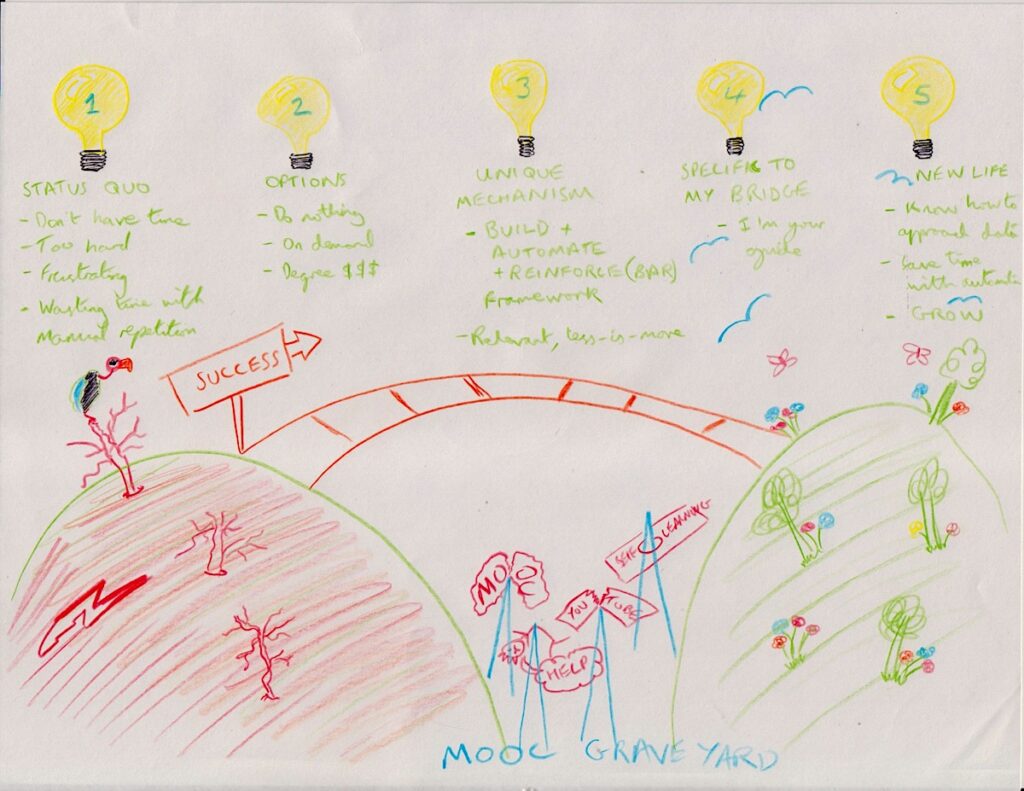 I recently joined 40 other entrepreneurs for the first cohort of Billy Broas' new live online cohort-based course, the Keystone Accelerator.
It's an 8-week program covering how to market and launch cohort-based courses (CBCs).
Cohort-based courses are online courses where a group of students join at the same time and progress through the course together. Typically, students in a CBC meet online via Zoom for interactive sessions and work on course materials between sessions.
They're fundamentally different to self-paced video courses because the emphasis shifts from being content-centric to being community-centric.
Students get the benefit of accountability, a peer group and expert teacher(s) for questions, and a community in which to celebrate wins and share challenges. CBC's provide structure and guidance for students. Consequently, they have much higher completion rates than self-paced courses and better outcomes for students.
I joined this Keystone cohort course because I'm creating my own live training course and I wanted to learn from the experts on how to build, market and sell these types of courses.
We met twice a week for 90 minutes over Zoom – with participants calling in from all over the world – to learn an education-based marketing framework. In addition, I joined weekly peer coaching groups to brainstorm ideas and critique each other's work in a safe environment.
Here are my top five takeaways from taking a cohort-based course that I want apply to my own course, the Pro Sheets Accelerator:
1. It Is Possible To Have Transformative Experiences Online
I'd never done a live cohort-based course before Keystone. I'd experienced plenty of webinars, in-person courses and self-paced video courses.
But this was different.
Keystone was unlike any other learning experience I've had.
It combined the content of an on-demand video course with the accountability, rapid feedback and community of an in-person event.
Accountability pushes you to show up and do the work.
Rapid feedback means you don't get stuck for long periods and learn quickly from your mistakes.
Community provides a safe space to share wins and challenges and make new friends.
Combining these three factors with world-class content is the best way to facilitate the student transformation.
For first cohort of the Pro Sheets Accelerator, I want to foster a really strong community to maximize these benefits.
If you join, you'll be in a group of 30 – 40 students, with a private course forum, peer groups and office hours, in addition to the main teaching sessions.
2. The Connections You Make Are As Valuable As The Course Content
I joined a group of 40 super smart, motivated entrepreneurs, all building their own live training courses in wildly different industries.
Some were earlier in their journeys than me, some were further along.
Together, the breadth of experiences, ideas and insights far surpassed what I, as an individual, could have achieved.
Truly a case of the whole being greater than the sum of its parts.
I learned a lot from the peer coaching sessions, both from giving and receiving feedback. Seeing how other people solve problems, how they think and how they approach opportunities and challenges, was hugely valuable.
Like a wifi network that gets stronger as more nodes are added and interlinked, the new connections you make through a CBC improve your chances of success with your own business.
3. Learning With Others Is More Fun Than Learning Alone
I'm a firm believer that education should be enjoyable and that you learn best when you're having fun. We should take inspiration from young children who learn through play.
If it's enjoyable, you're more likely to succeed.
Instead of watching the clock and counting down until the end of a boring lecture, you're emotionally present and absorbing information. You're in the zone of proximal development.
In the past year, we've all been starved of human connection and friendship.
Although CBCs are online, you're still going through an intense shared experience with other folks.
Naturally friendships form as people get to know each other and become more comfortable. You begin to see beneath the surface and really learn from each other.
Pro Sheets Accelerator will be a fun experience. My goal is for everyone to enjoy the course first and foremost.
4. The Tangential Ideas Are Just As Valuable As The Core Content
The Keystone course I participated in is a marketing course. Its promise is that it'll teach you how to market and sell cohort-based courses.
But along the way, I picked up tons of other ideas. Ideas that weren't on the syllabus but arose through digressions, chats with peers or from surprise bonus sessions with guest experts.
Simply from being part of this cohort-based course, I learned about how to run one. I saw first hand how many moving pieces there are and why you need help to run one. Everything from the first onboarding call through to how to structure the live Zoom calls and exercises.
Tiago Forte, one of the world's leading experts on CBCs who runs the hugely successful Building A Second Brain course, joined this Keystone course and added his perspective to the program.
In addition, we had workshops on the operations side of running CBCs from course director Will Mannon, and on how to create engaging experiences for our students from learning designer Andrew Barry. Both of these added valuable insights outside of the marketing curriculum of the main course.
Encouraging curiosity, fostering peer-led learning and surprising students with guest speakers are all great ways to add value to a CBC.
I plan to implement all of these in the Pro Sheets Accelerator course.
5. Less Is More in Cohort-Based Courses
When it comes to content, less is more.
What this means in practice is that the emphasis of the course shifts from cramming in as much content as possible (a traditional signal of value) to focusing on students' transformational learning experiences.
The goal of a CBC is for your students' life to change. You're guiding them across the bridge from their current status quo to the new, better life.
For example, in the Keystone course, I came away with a much deeper understanding of CBCs and education based marketing. I now have a playbook I can apply to my own business.
What I don't have is a library of 300 videos on marketing, which I would never have the time to watch, much less implement.
This realization with regards to content – that less is more – was a key shift I noticed in myself during this Keystone course.
For the Pro Sheets Accelerator cohort-based course, my original plan was to focus on making it as comprehensive as possible, covering Google Sheets and Apps Script from top to bottom.
It would have been impossible to achieve and unmanageable for students.
Now, my plan is to focus on two areas:
Developing a framework and skillset for doing data analysis with Google Sheets, and
Automating that framework
Yes, they're still big topics, but they're focussed. I can build a syllabus that goes deep into these subjects and delivers huge value, in a way that won't overwhelm students.
The material will be relevant. Students will learn just enough to experience a transformation but not too much that it gets diluted.
Applying These Lessons To Pro Sheets Accelerator
It's been 4 years since I launched my first online course, How To Build Dashboards in Google Sheets.
Since then, over 40,000 students from 1,000s of organizations have registered for one or more of my online courses.
All of these courses are self-serve video courses.
Now it's time to add a new experience-based course into the mix, as the next evolution of my education business.
I'm building a cohort-based course called Pro Sheets Accelerator, which will teach you how to leverage the power of data and automation in Google Sheets to grow your business and career.
The first cohort begins at the end of April. I'm super excited to bring together a group of Sheets aficionados for a transformative learning experience. Join us!