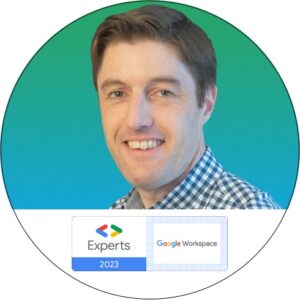 Hello! I'm Ben Collins, educator, writer, developer and founder of The Collins School of Data.
I create online courses and write about Google Workspace tools. I focus on data analysis and automation, using Google Sheets and Apps Script.
I love building lightweight, data-driven applications for the Google stack: Google Sheets, Google Data Studio, Google Apps Script, Google Docs, Gmail, etc.

Timeline
In 2014 I quit my corporate job as a forensic accountant. I took a long bike trip, got married, and thought seriously about starting a paid accounting industry newsletter. (Spoiler alert – I didn't. I came to my senses in the nick of time!)
In 2015 I wrote my first blog post about building dashboards in Google Sheets, which led to my first consulting client. I also taught data analysis courses for General Assembly.
In 2016 I doubled down on Google tools and continued consulting and teaching workshops.
In 2017 I launched my first online course – Build Dashboards with Google Sheets – teaching professional spreadsheet techniques.
In 2019 I became a Google Developer Expert for Google Workspace Technology, one of only about 30 worldwide for the Google Workspace Technology branch. The GDE award is given out by Google to experienced, recognized developers of Google technologies (learn more about the program in this short film).
In 2020 I launched a new website, Excel To Sheets (to help you migrate from Excel to Sheets) and created the online conference SheetsCon.
In 2021 I ran two live, online training programs called Pro Sheets Accelerator.
Also in that year, I became a Google Cloud Champion Innovator.
In 2023, I created and launched my 20th course: Beginner Apps Script. I also started using AI tools heavily and launched my 21st course: The AI Playbook for Google Sheets
I'm currently working on the next big thing for my community. Stay tuned!
---
When not crunching data, I love to spend time with my beautiful wife, Lexi, our two sons, my family and friends. We're avid outdoors people, and get out hiking, cycling, traveling, cooking and eating outside as often as possible.
I'm a dedicated hiker, cyclist, paddle-boarder, and climber. I also enjoy digital photography and documenting adventures in far-flung places.
More at bencollinsoutdoors.com
---
If you're interested, here's a long story of How I Left My Corporate Accounting Job 7 Years Ago And Built A Career As An Educational Entrepreneur.
Get weekly Google Sheets Tips
Join our community of over 50,000 Google Sheets fans who get weekly tips, exclusive content, and the best offers on my courses.
---
If you're curious what tools I use to run my business, have a read of this page (some affiliate links).
---
Interviews and Case Studies
Growth In Reverse Profile: Ben Collins Built a Successful Business With Google Sheets Tutorials
How I used my spreadsheet skills to build a career I'm passionate about: a guest post for Teachable about my experience turning my skillset into a career that I'm passionate about.
Episode 06 of The Career Climb: An interview with Jamie Dru on his career podcast about the various twists and turns I've taken in my own career, and how I ended up teaching online courses.
Google Sheets and Apps Script educator helps others take their data to the next level using Supermetrics: a partner case study with Supermetrics
How to Use Google Sheets To Run Your Small Business: workshop as part of Teachable's Discover Fest 2021
How I built a Google Sheets blog with 400k views per month, with Simon Owens of the Creator Collab House
Interview with Noah Lerner and Jordan Choo on Agency Automators YouTube channel
Totally Unscripted: New workflow solutions with Tables and Google Apps Script
A Conversation with Ann Emery of Depict Data Studio
Becoming Location Independent on the How I Built It Podcast
Javascript Jabber podcast JSJ 419: Google AppScript with Ben Collins
How I Email with the Gmail Genius
Podcast with Ryan Robinson about how I built my business
Get Automated podcast about Google Sheets automation
Learn To Code With Me podcast about how to get started in Data Analytics
Simon Owens interview about online courses
Totally Unscripted 16: Data Studio Community Connectors
---
If you have a question for me, get in touch here.