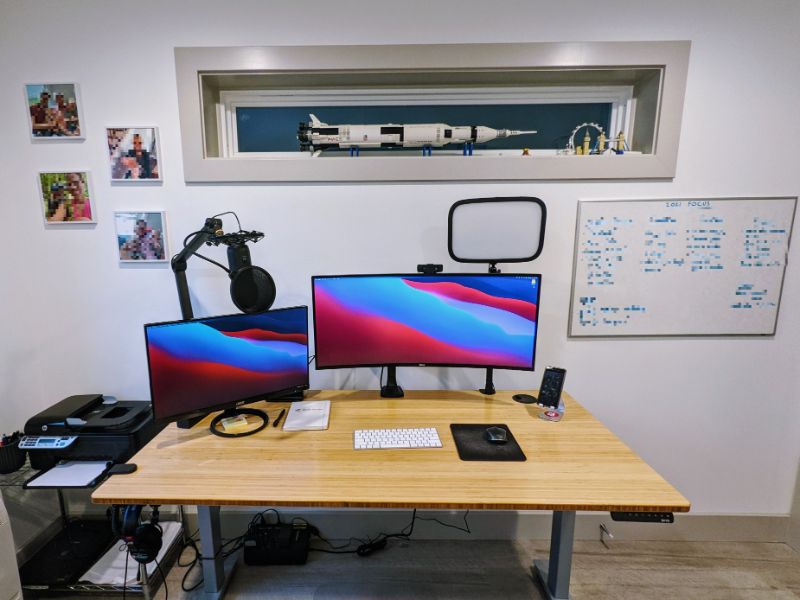 How it began
Growing up, I vividly remember sitting in my dad's home office after school, waiting for him to get home from work.
The office had a tall ceiling and a single window at the back that opened into a tiny access courtyard between our house and the neighbor's house (it was a semi-detached Victorian).
My dad sat behind a heavy wooden desk, with a big, boxy desktop computer sitting atop. On one wall was a bookshelf, full of computer books and boxes of floppy disks for illustrious programs like Microsoft Windows, Lotus 1-2-3, Borland Quattro Pro, and many others I've forgotten.
I would pull the thickest manual off the shelf and ask dad to explain it to me the minute he got home from work. I'm sure it's just what he wanted to do at the end of a long work day. Sorry (but not sorry) dad!
I've wanted my own work space, reflecting my personality and overflowing with books, ever since.
Working From Home
I've worked for myself for 5 years now, so I'm used to working from home.
For the first couple of years, I worked from a small desk in the living room and then the basement of where I lived at the time.
When my wife and I moved to Florida in 2017, I rented a 1-person office in downtown St. Petersburg. My youngest son was only a few months old so I needed a quiet space to record videos. (I launched my first online course in 2017.)
I customized that rental office to make it my own. The first investment was a Fully Jarvis standing desk, which I still use and love today.
Last year, we moved to Harpers Ferry, WV, and it was a chance to set up a new office. The only change was the better scenery out my window and a couple of pieces of artwork on the walls.
This year, 2020, we moved out of the rental house and into our own home, so it was finally time to build the dream office. This is iteration three of my home office.
An Investment In You And Your Business
I've come to realize that the environment in which you do your work is important.
To do my best work I need to clear my mind out first. If there's clutter everywhere, which is most days since I have young kids, then my mind is using energy to think about it. In my head, I'm doing a virtual Maire Kondo where I sweep it all away and out of sight.
My office is one space I have control over though. I can set it up to be clean and minimal.
Today, I'm much more sure of who I am and what I do than at any previous stage in life. And that translates into being able to create a workspace that facilitates the work I do now.
Global HQ for Collins Analytics LLC
My 2014 MacBook Pro is 6 years old and showing its age.
I don't do a lot of heavy-duty computing, but I do work with large video files. And of course, I have a lot of Chrome tabs open at any given time.
The time from deciding I needed a new computer to actually purchasing one was about 12 months!
I spent a LOT of time researching options and looking at other's setups.
But it wasn't until I saw this Mac Mini and Ultra widescreen setup that I found what I was looking for. This was the perfect setup for me.
Here's my current home office setup: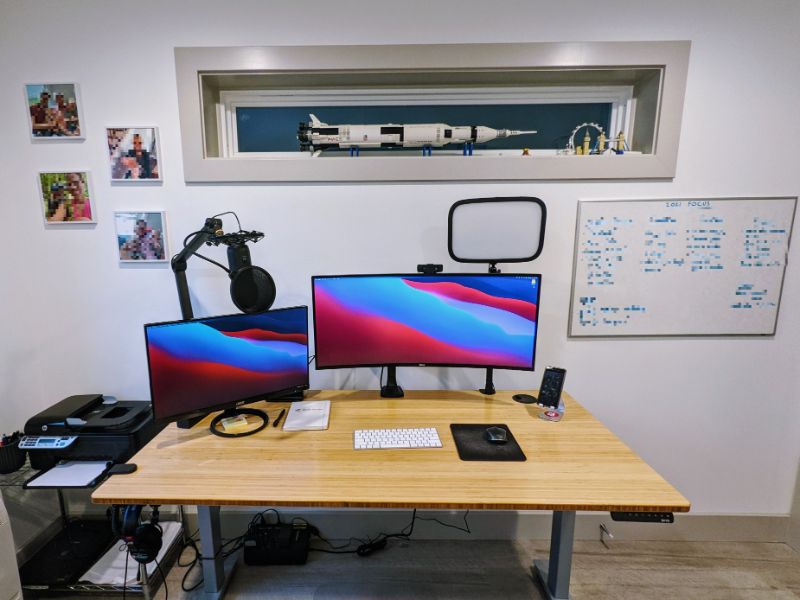 I'm using the new  Apple Mac Mini with the M1 chip, powering 2 monitors: an ultrawide Dell U3419W (supported by a Fully Jarvis monitor arm) and an Acer R240HY.
The microphone is a Blue Yeti on a Blue Compass arm, and the light is an Elgato Key light.
Everything sits on Fully's Jarvis standing desk, which I've had for years and love.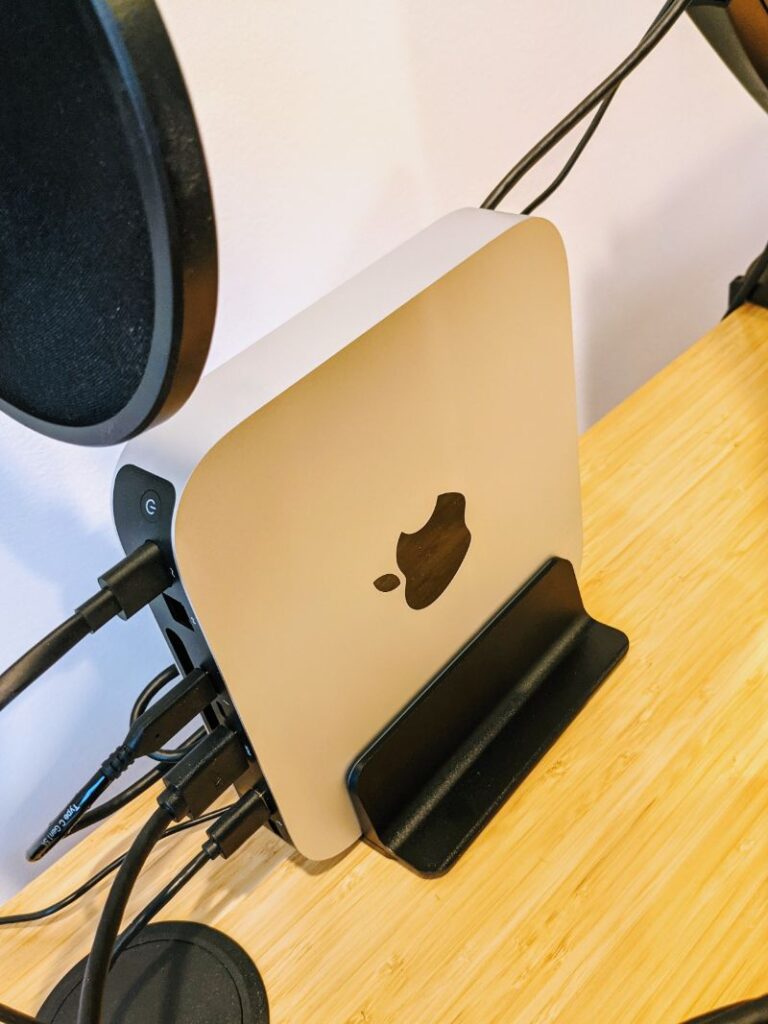 So far, it's a fantastic combination! Super fast, quiet and tons of real estate.
That's a Lego Saturn V rocket on the window ledge, one of the greatest Lego models of all time.