Enter your email below to get your copy of my free, 79-page ebook with 35 interesting tips and tricks for Microsoft Excel and Google Sheets.
Join over 5,000 other data analysts to get exclusive content and the best deals on future training courses!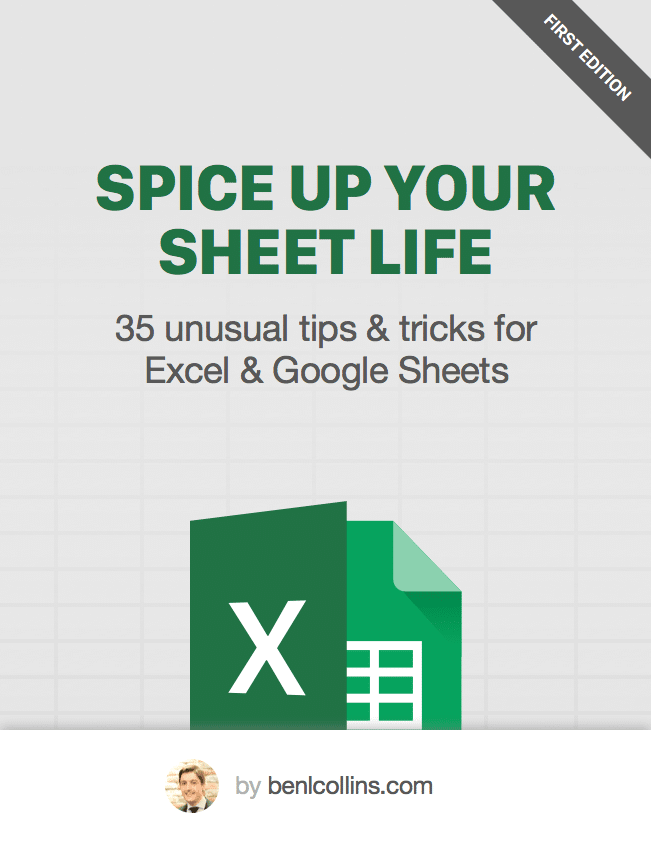 This book contains 35 detailed case studies, covering practical and esoteric, easy and difficult, short and long, Excel and Google Sheet tricks and techniques. My hope is that you'll find some magic in these pages, to inspire you or show you new ways to use spreadsheets you didn't know were possible.
For example, did you know you can build a language translation tool in a Google sheet? Or create a chart of stock prices in under 30 seconds? All possible and covered in these pages!
Thank you for all the great excel "hacks" and so on!!! It's really helpful. – A reader from Germany
What about other weird tricks like looking up leftwards with VLOOKUP? Or lookups with multiple criteria? Writing SQL code in your spreadsheets? Check, check and check. All possible and covered in this book.
Great! – A reader from Melbourne, Australia
Wow! Really nice job – A reader from Washington, D.C., USA
Already am enjoying it – A reader from Virginia, USA