Whenever I've taught data analysis classes or data visualization classes, for General Assembly or privately or online, I find that the humble scatterplot is often poorly understood.
Perhaps it's because they're less common than simple bar charts, line charts or pie charts? Or maybe it's because they take a bit more mental effort to understand what they're telling us?
Regardless, they're a crucial tool for analyzing data, so it's important to master them. This post looks at the meaning of scatterplots and how to create them in Google Sheets.
What is a scatterplot?
Simply put, a scatterplot is a chart which uses coordinates to show values in a 2-dimensional space.
In other words, there are two variables which are represented by the x- and y-axes.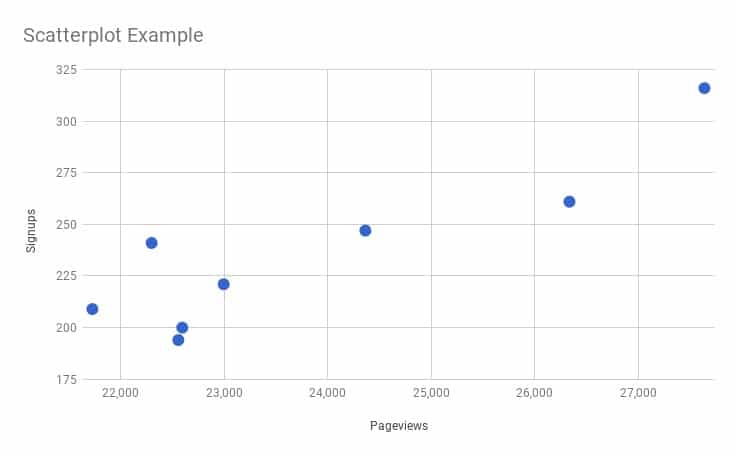 In this example, the scatterplot shows the relationship between pageviews of a website and the number of signups that website received. As you can see, when the number of pageviews increases, the number of signups tends to also increase. They are positively correlated, but more on that in a minute.
Often the variable along the x-axis is the independent variable, which is the variable under the control of the experimenter, and the variable up the y-axis is called the dependent variable, or measured variable, because it's the variable being observed to see how it changes when the independent variable changes.
It's possible for both variables to be independent, in which case it doesn't matter which axis they're plotted on and the scatterplot shows any correlation between the two.
CHECK OUT MY NEW DATA ANALYSIS COURSE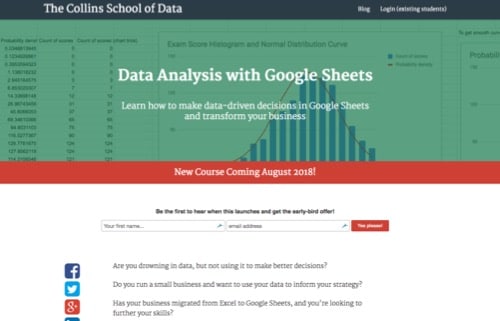 Data Analysis with Google Sheets, will teach you how to make data-driven decisions using Google Sheets.