Google Sheets has three functions to rank data: the RANK function, the RANK.EQ function, and the RANK.AVG function.
All three functions return the rank (position) of a value in a dataset.
RANK and RANK.EQ are equivalent to each other and return the top rank for values that are tied. RANK.EQ is the more modern notation, to explicitly differentiate itself from RANK.AVG.
The RANK.AVG function differs by returning the average rank of any entries that are tied.
Consider this dataset showing the three RANK functions in action, with a tie highlighted in yellow: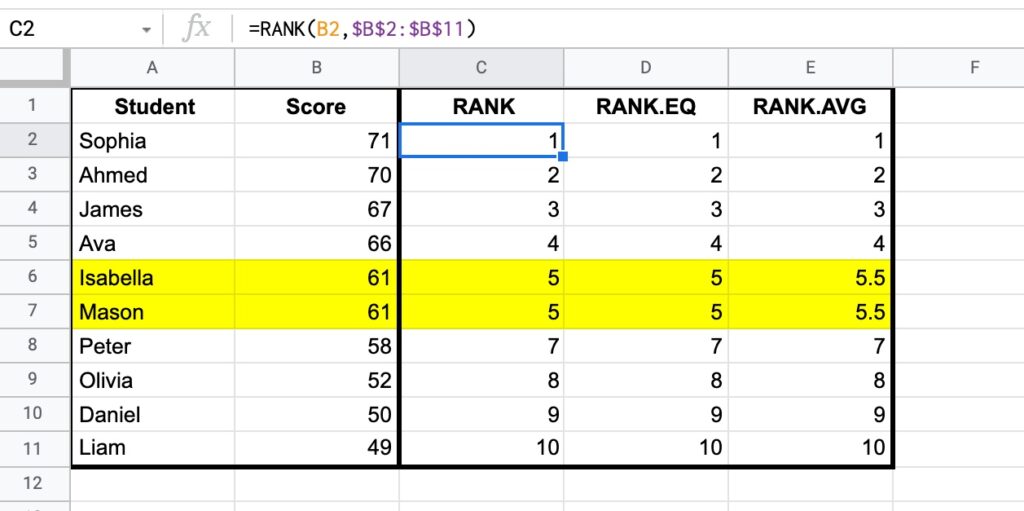 Both RANK and RANK.EQ display the tied values with the rank 5, whereas RANK.AVG shows the average rank of 5.5 (i.e. the average of position 5 and position 6).
The RANK formula in column C:
And RANK.EQ formula in column D, giving the same answer:
Finally, RANK.AVG formula is in column E:
🔗 Get this example and others in the template at the bottom of this article.
Continue reading How To Rank Data In Google Sheets With The RANK Function