The SEQUENCE function is a useful function in Google Sheets. It's a powerful way to generate numbered lists.
=SEQUENCE(rows, columns, start, step)
As arguments for the SEQUENCE function, you specify 1) the number of rows, 2) the number of columns, 3) a start value, and 4) a step size.
Arguments 2, 3, and 4 are optional. However, if you want to set them you need to include the previous ones (e.g. if you want to set a step size in argument 4, then you need to set 1, 2, and 3 as well).
Keep this order in mind as you look through the examples below and you'll soon understand how the function works.
1. Ascending list of numbers
=SEQUENCE(5)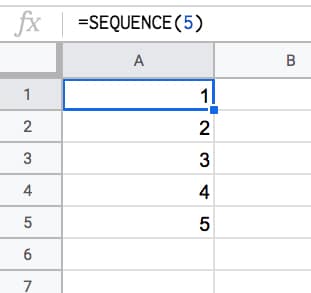 Continue reading Build Numbered Lists With The Amazing SEQUENCE Function