Complex Formulas? The Onion Method? Huh?
I'm talking about the idea that complex formulas in Google Sheets are a lot like onions.
They have layers.
And they sometimes make you cry. 🤣
The Onion Method For Complex Formulas
If you're building complex formulas, then I advocate following a one-action-per-step approach.
What I mean by this is that you build your formulas in a series of steps, and only make one change with each step.
The Onion Method is a framework by which to approach hard formulas, and consists of these three elements:
Put each new step of the formula in a new cell
Label each step with a simple "Step 1", "Step 2", etc. in adjacent cells
Change the background color of each formula cell, so they can be easily found
This lets you see the formula progress in an incremental way and is really helpful when you're building or tyring to understand complex formulas.
Sometimes a step might result in an error (typically a #N/A or #REF!), but that's ok, provided it gets fixed in a subsequent step, as shown in this SUMPRODUCT example:

Each of these intermediary formulas in the above image moves us forward incrementally, until the final answer is obtained in step 6.
Similarly, if you're trying to understand complex formulas, peel the layers back until you reach the core (which is hopefully a function you understand!). Then, build it back up in steps to get back to the full formula.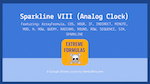 💡 Learn more
Learn advanced formula techniques in the new Extreme Formulas in Google Sheets course
Covering advanced formula topics and crazy, crazy formulas!