New here? Well hello!
My goal here is to provide the best online resource for helping you to learn data analysis, data visualization, building dashboards and other topics using Google Apps, specifically Sheets, Apps Script and Data Studio.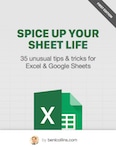 Before you start, why not grab a copy of my free ebook: "Spice Up Your Sheet Life – 35 tips and tricks for Google Sheets and Excel" and sign up for my newsletter?
My newsletter is packed full of Google Sheets, Apps Script and Data Studio tips!
If you're interested in professional Google Sheets training, check out my online courses here.
Please also join the conversation on my Facebook page or check out my tutorials on my YouTube channel.
You can get to know me or get in touch.
A full list of all the posts on this website appears at the bottom of this page. There are also plenty of other Google Sheet posts here and Apps Script posts here.
Popular Google Sheets & dashboard articles:
Popular Apps Script & coding articles:
Popular Data Studio articles:
Full post archives:
[archives]